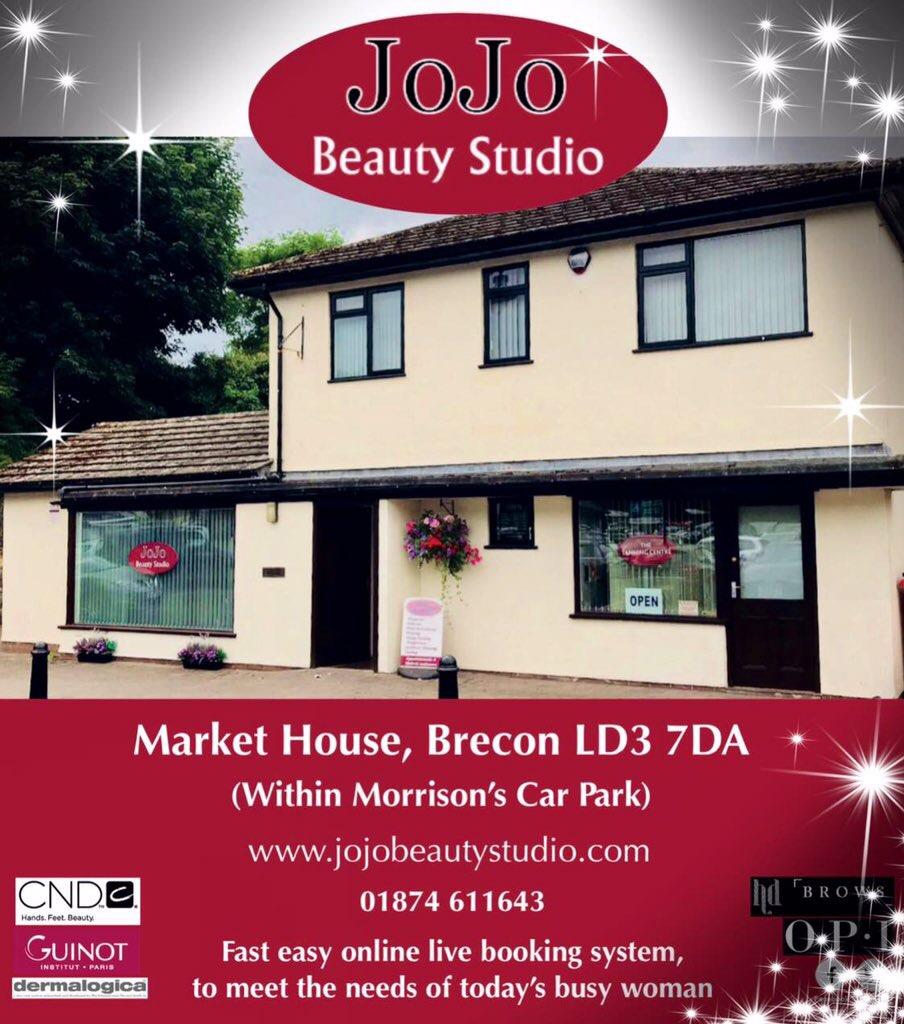 JoJo Beauty, Aesthetics Clinic & Tanning Centre
Multi Award Winning - In the Heart of the Brecon Beacons Market House, (within Morrisons Car Park), Brecon LD37DA Welsh Hair and Beauty Awards - Winner - Beauty Salon of the Year 2015 Finalist - Team & Service Award 2015 Finalist - Beauty Salon of the Year 2016 Finalist - Team & Service Award 2016 Winner - Beauty Salon of the Year 2017 Finalist - Beautician of the year 2017 Finalist - Beauty Salon of the Year 2018 Listed in the Top 100 Salon's in Wales 2018 Finalist - Beauty Salon of the Year 2019 Listed in the Top 100 Salons in Wales 2019 Finalist - Beauty Salon of the year 2020 Professional Beauty Awards - Finalist for Wales. - Beauty Salon of the Year - 2016 Welsh Independent Retail Awards - Winner - Hair and Beauty Salon of the Year 2017 Highly Commended - Beauty Salon of the Year 2019 Finalist - 2020 Welsh Wedding Awards - Winner - Make Up Stylist's of the year 2019 Finalist - MUA's of the Year 2020 "The Good Salon Guide" Awarded 5 Stars Welsh Enterprise Award 2019 - Winner Health and Beauty Salon for Powys The Welsh Beauty Industry Awards Winner. - 5 Star Beauty Salon - Mid Wales 2019 Finalists - Beauty Team of the Year 2019 Members & Insured with BABTAC ( British Association Beauty Therapy and Cosmotologists) HD Brows Pro Stylists and Official Make Up Stockists Advanced Waxing Specialists Guinot and Dermalogica Skincare Centre Home to JoJo Beauty Studio, Aesthetics Advanced Therapy and The Tanning Centre Long established Nail salon, Advanced therapy centre and the Tanning Centre, with a modern and convenient approach to meet the needs of today's busy woman with fast easy online live booking system. JoJo's provides CND Shellac, CND Vinylux, OPI Gel Polish. Acrylic and Hard Gel Extensions as well as Intimate and Body waxing. HD brows (fully trained by HD) Henna Brows and face and brow waxing. Aesthetics AdvancedTherapy, are agents for the world renowned Dermalogica and Guinot Skincare and their treatments and were nominated for Guinot 'Crown Status' Bamboo, Hot Stone, Aromatherapy & Deep Tissue Massage. We offer microdermabrasion and the fantastic "no needle" Mesotherapy Infusion Facial for deep and dramatic results. Recent addition is Radio Frequency Skin Tightening Treatment for face and body, The Photon light mask and Cavi Fat Busting Treatment. We have regular visits from specialists highly experienced in Injectables and Semi Permanent Make Up. Superficial Chemical Peels, Red Vein and Skin Tag removal by Jo For information on our treatments please click on the info button. The Tanning Centre provides a Modern powerful SunShower in 6, 9 and 12 minute sessions. We also provide St Tropez Spray Tanning .

Online Booking - For just one booking you can use the Book button at the side of your chosen service in the services page! For multiple bookings you need to use the "Book Now" button below. We send out email and sms reminders and Covid Safe Forms prior to your appointments. T&C's We operate a minimum 24 hours notice policy to avoid charges.
JoJo Beauty, Aesthetics Clinic & Tanning Centre
Specialist Clinic

Semi Permanent Make Up

2nd Monday of each month - Rachel Kennedy - Semi Permanent MakeUp, Medical Tattoo clinic

Jo

Advanced Cosmetic Practitioner & Experienced Aesthetician

ACP - Removes skin tags, milia, warts, thread veins, sebaceous warts and moles. (book a consultation first to have a chat over the phone to see if you can proceed with a treatment booking) 35 years experience. Qualified and highly experienced aesthetician for all your skincare issues. We are now a no injectables salon and use all the latest technology fore anti ageing, pigmentation , acne and rosacea. Also jo offers excellent advice in ways of using make up on mature skins .

Monica

Senior Beauty Therapist

Monica joined us in 2016 and is an experienced senior therapist. She has a passion for massage including Bamboo, Deep Tissue , Myofascial Release, Hot Stones plus really loves all her facial treatments . Monica is Guinot and Dermalogica trained and is an advanced facial and skincare specialist.

Sophie

Senior Beauty Therapist

Senior Beauty Therapist - Sophie does lovely Dermalogica, and Guinot facial treatments as well as excellent hot stone, Swedish massage and deep tissue massage and is experienced in nail enhancements and all things nails. Sophie is also our Lash Technician - she does Express, Semi and Russian Volume Lashes plus is a fully trained HD Brow Stylist.

Jenny

Senior Beautician

Jenny is a senior beautician with over 20 years experience in salons and self employment and joined our team in July 2018.

The Tanning Centre

Sun Shower

Sun Shower - Latest Hybrid Tanning - delivering an unparalleled glowing dark luxurious tan. Having the added benefit of red and blue wave lengths. It smooths fine lines and wrinkles,helps healing of recent scarring and stretch marks. Greatly improves Eczema, Acne and Psoriasis.
JoJo Beauty, Aesthetics Clinic & Tanning Centre
JoJo Beauty, Aesthetics Clinic & Tanning Centre
JoJo Beauty, Aesthetics Clinic & Tanning Centre
Virtual Consultation Clinic
Market House (within Morrisons car park), Market Approach, Brecon, LD37DA
01874611643 - jojobeautybrecon@gmail.com
Monday

Tuesday

Wednesday

Thursday

Friday

Saturday

9:00am - 6:30pm

9:00am - 6:30pm

9:00am - 5:30pm

9:00am - 6:30pm

9:00am - 6:30pm

9:00am - 5:30pm
Market House, LD37DA, Brecon
01874611643
Market House, LD3 7DA, Brecon
01874 611643